This post is sponsored by Offside Marketing. Check out what they do here: http://www.offsidemarketing.com/
oblige the author is here, a new section of SmallWorld that's set to replace SmallScale Arguments!
As should be obvious to you by the title, oblige the author is a section of SmallWorld dedicated to personal opinions from around lower-league soccer. It's typed in lowercase because the person writing this wants to feel cool and edgy. It's definitely working.
Anyway, the first entry in this series is a post about UWS, a second-tier women's soccer league that's on par with the WPSL. UWS is home to FC Austin Elite and Detroit Sun, two good friends of SmallWorld, and also the home of Detroit City FC's brand-new women's side!
Let's be honest: this isn't a time when soccer leagues would be expected to prove themselves worthy of praise. This is a time that's expected to ravage budgets, bring out the worst and most selfish side of owners, create tension between people and clubs, and result in more loss than gain.
For a lot of teams and leagues, we observe exactly what we expected from such a tumultous time. UWS, however, has somehow managed the opposite; they have actually improved their standing in the lower-league community as a result of this wild year.
UWS has a lot of great things going right now, even if on-field soccer isn't one of those things. Speaking of, though, let's take a look at the timeline of UWS's response to the COVID-19 outbreak in the US.
February 28 – schedule drops for Midwest division. Intent to play is clear from this move, but further developments prompt changes.
March 12 – update comes out in response to CDC recommendations canceling mass gatherings for 8 weeks. The update once again affirms the intent to play a summer season, but that the league "will continue to monitor the situation and adjust as needed to protect the safety of our players, organizations, and fans". That's a statement they would live to honor down the road.
March 20 – just over a week later, UWS releases another statement that doesn't say much more, but continues to keep fans posted on the process and once more states a desire to play out the 2020 season.
"First and foremost, the safety of all the players, staff and supporters will guide any final decision on the 2020 season."

Joseph Ferrara Jr, League Commissioner of UWS
April 4 – two weeks later, the league announces a delay in the start of the season, but once again speaks of an intent to play a summer season. The same ideas are reiterated and again, updates are brought forth as soon as possible for supporters.
June 9 – after a two-month silence, the league officially announces the cancellation of the 2020 UWS season. It's a very late response, and given the lack of updates leading up to this announcement, it's hard to truly know the mentality of the league, but judging by previous statements, it's clear that the league intended to give its members a chance to play if at all feasible.
June 12 – three short days after canceling the season, UWS comes up with an alternative to get as many clubs into official play as possible, the UWS National Cup. It's intended to be held in Round Rock, TX and run from July 9-17.
June 26 – after some steps backward nationally in the fight to flatten the curve, UWS makes the tough choice to cancel yet again. The National Cup is called off, a difficult but crucial call for player safety.
In addition, when the season was canceled, UWS credited 80% of the league dues for the season back to the member clubs for 2021. That's a significant improvement from other leagues' offerings, both men's and women's, and another sign that the league's intentions and actions were good during this entire process.
Outside of official press releases, though, UWS has still kept active on social media and maintained their following. They've been highly supportive of their members' efforts to stay involved; they've announced their second division, UWS League Two; they've tracked and spoken with UWS alums who have moved on to professional soccer; and they're continually showing support for the women's game as a whole.
When the USWNT's fight for equal pay was very much in the public eye, UWS was quick to send their support. When NWSL announced updates on returning to play, UWS supported that, too.
Most importantly, though, I really appreciated the stance UWS took regarding the Black Lives Matter movement and the nationwide call for social justice for black people. I've attached the image the league posted for reference because the way the words are presented are just as important as the words themselves.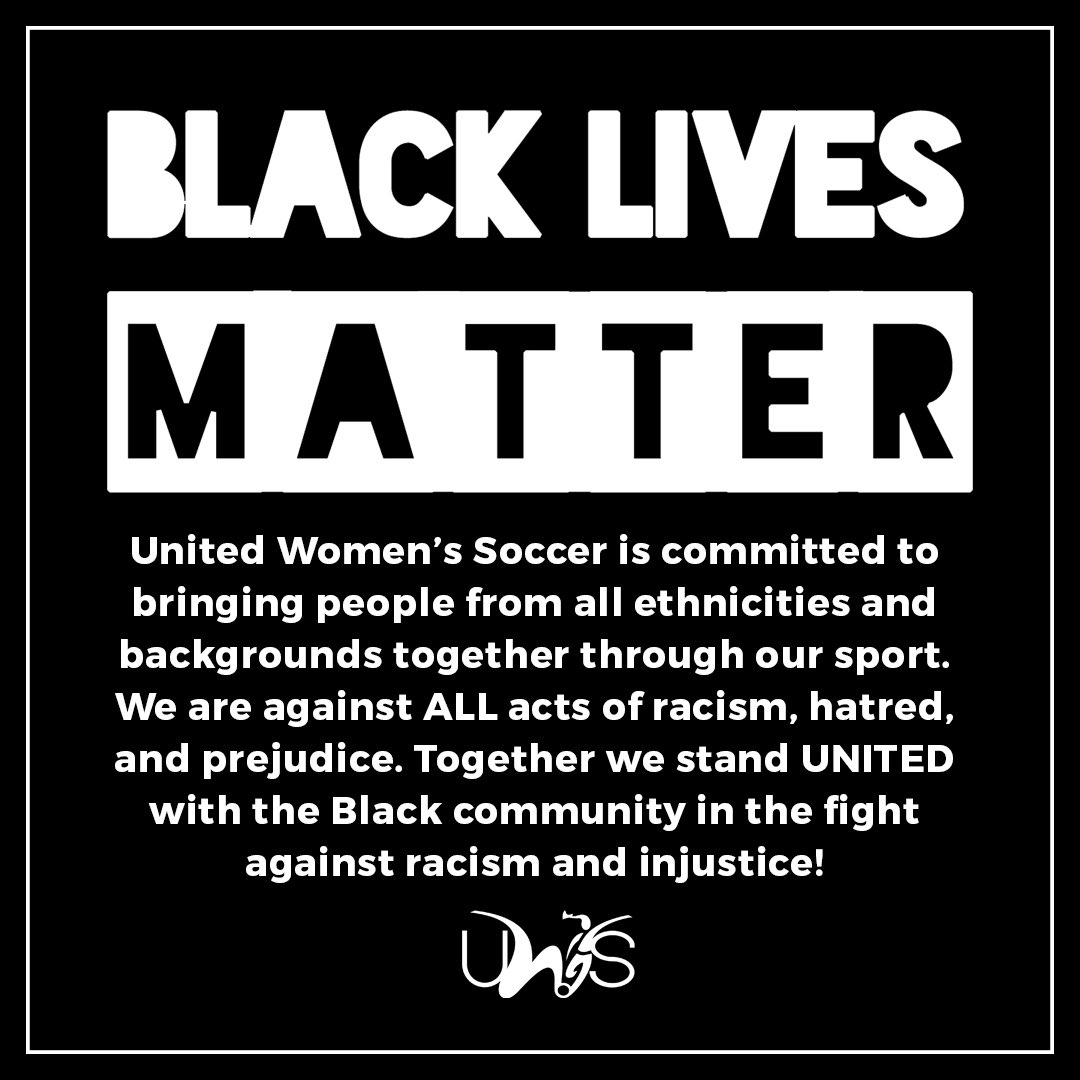 This checks all my personal boxes for what a BLM post should look like:
Clearly says the words "Black Lives Matter." Bonus points here for the size and prominence of the phrase. This is very clearly not an "all lives matter" type of post.
It actually exists. Shouldn't be a box to have to check, but alas…
They actually articulate that they stand with the BLACK community. Again, not just an "all lives matter, here's our nondescript statement to try and please everyone" post.
Avoids being overly showy where it's not necessary. This is put as simply as possible while still explaining what matters. Doesn't feel at all like a popularity move to me, but a true indication of where the league stands.
If this isn't a great overall indication of where UWS' intentions are, I'm not sure what is.
To be honest, up until the past few months, UWS has been a blip on my lower-league radar, another league I didn't know much about. After these trying times, however, I have a different opinion.
UWS is no longer just another league to me. It's proving itself daily as a real force for growth in the women's game, an ally of the lower-league soccer community, and a league with incredible potential to be highly successful.
Other leagues I've had high opinions of are not living up to them right now, and it's hard to be too critical of that in such difficult times. But one league has proven it is possible to get things right during this time. That league is UWS.
And if you'll oblige the author, it's the most underrated soccer league in the United States.
Support local soccer, unify those around you, and *seek out diversity*!
Blessings,
Danny